About the Editor

Robert Bedford is the Executive Director of The Foundation for the Advancement of Sephardic Studies and Culture, NY, and author and editor of several articles and books, including An Introduction to Literature on the Holocaust in Greece; Portraits of our Past, The Sephardic Communities of Greece and the Holocaust; Michael Molho's Traditions and Customs of the Sephardic Jews of Salonika; and the documentary film Ottoman Salonika, 1430-1912. Bedford lives and works in the New York City area.
Monastir Without Jews will be available beginning March 11, 2008.
Monastir Without Jews was published in 2008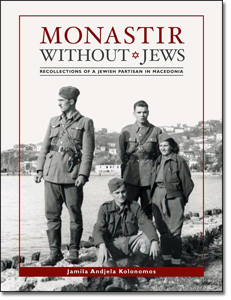 ISBN: 978-1-886857-09-4
Library of Congress Control Number: 2007936962
160pp, paper. Maps, photos & illustrations.
Printed in the USA
LIST PRICE: $18.95
ORDER HERE
Available March 11, 2008.
NOTE: Pre-orders will ship beginning March 11, 2008.
For more information contact:
info@sephardicstudies.org