Traditions and Customs of the
Sephardic Jews of Salonica
by Michael Molho

Edited by Robert Bedford
Translated by Alfred A. Zara
Published by the Foundation for the Advancement of Sephardic Studies and Culture
An annotated English language edition of Michael Molho's classic
1950 work, Usos y Costumbres de los Sefardies de Salonica.
Traditions and Customs focuses on the rich cultural traditions and heritage of the largest Sephardic Jewish Community in the Balkans.
These simple customs, though colorful and patriarchal, were the customs of the Sephardic Jews until the end of the nineteenth century. The coming of the Ottoman revolution and mainly the fire of 1917 ­ which destroyed most of the Jewish section and caused the Sephardic Jews of Salonica to be scattered throughout all the city ­ ended the old traditions which they had preserved with great fervor. At the moment almost nothing is left of that which before gave a special seal to the Jewish collectivity of Salonica ... Under the influence of assimilation, which advances very quickly, these customs are disappearing little by little. Michael Molho, 1940.

The traditions, customs, rituals and beliefs, proverbs, ballads, songs and tales which author Michael Molho has preserved in these pages are conveyed with a genuine appreciation and passion for his culture, and will invoke in the eyes of its readers the ancient ties of the Sephardim to their Spanish and Iberian origins.

Appearing for the first time in the English language, annotated and supplemented by 150 rare photographs and illustrations, Traditions and Customs of the Sephardic Jews of Saloncia depicts the colorful and picturesque life and Judeo-Spanish language of the Sephardic Jews in Salonica, as it existed for nearly five hundred years before its tragic destruction during the Holocaust.
Traditions and Customs was published in 2006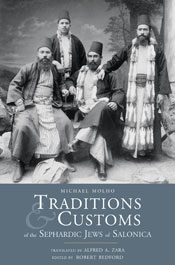 ISBN-13: 978-1-886857-08-7
ISBN-10: 1-886857-08-3
Library of Congress Control Number: 2006922922
432+pp Hardcover with dustjacket. Maps, photos & illustrations.
LIST PRICE: $29.95
ORDER HERE