Traditions and Customs of the
Sephardic Jews of Salonica

About the Author

Michael Molho was born in Salonica, descended from a long line of eminent rabbis and scholars. Molho was rabbi of the Jewish Community of Salonica after it emerged from the destruction of the Holocaust, and later emigrated with his family to Buenos Aires, to serve as spiritual leader of the Sephardic congregation of Temple Chalom. Molho died in Buenos Aires in 1964, leaving behind a legacy of nearly one hundred works on the Sephardic Jews of Salonica and the Balkans.
Traditions and Customs was published in 2006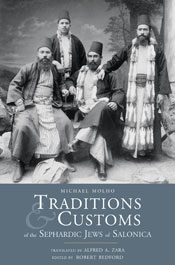 ISBN-13: 978-1-886857-08-7
ISBN-10: 1-886857-08-3
Library of Congress Control Number: 2006922922
432+pp Hardcover with dustjacket. Maps, photos & illustrations.
LIST PRICE: $29.95
ORDER HERE